The French - 19.09.2016

Try Adam Reid's Great British Menu dishes for yourself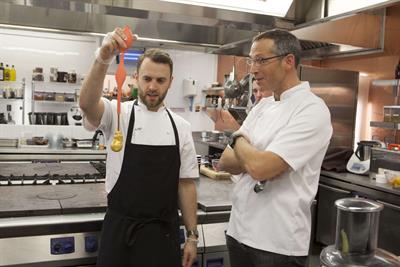 Recreate the theatrical and culinary magic of BBC Two's Great British Menu at The French, with Adam Reid's 'Great British Lunch'.
In celebration of competing in the national finals, Adam will be serving all four of the dishes he created for this series' Great British Menu.
Available Wednesday to Saturday from 12.00pm to 1.30pm until Saturday 28th January 2017, guests can enjoy Adam Reid's four-course Great British Lunch for £75 per person. Booking required.
Reserve your table via the 'Reservations' link above.
GREAT BRITISH LUNCH
BY ADAM REID
FROM PAKORAS TO THE PALACE
Cabbage samosas with date and tamarind
Pakoras with scallop, prawn and shrimp
Lamb batata champ, cultured cream and hyssop
—
BY THE SEASIDE
Butter poached hake with sea greens, tartar sauce,
'Scraps' and pickled cockles
—
HOW FAR WE'VE COME
'Collar'd beef' with tarragon and spices, loin, hen of the woods, turnips and mushroom catsup
—
GOLDEN EMPIRE
Stewed Empire Apple with hazelnut crumble, meadowsweet custard and golden candy apples