The French - 28.04.2016

Simon Rogan's Chef Week 2016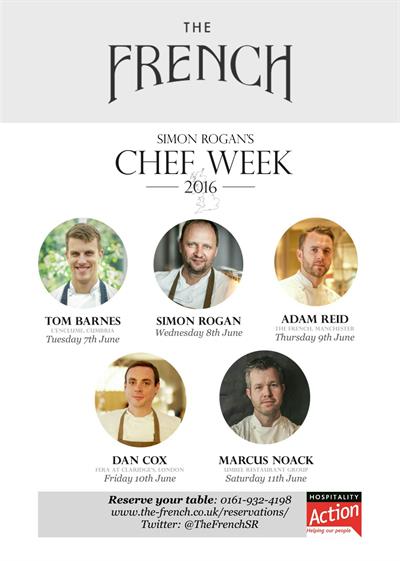 Simon Rogan's Chef Week returns to The French from 7th June – 11th June 2016.
Simon Rogan and the chefs from each of his award-winning UK restaurants– Adam Reid from Manchester's The French, Tom Barnes from Cumbria's L'Enclume, Dan Cox from London's Fera at Claridge's, and Marcus Noack, executive chef of Simon's Umbel Restaurant Group – will each host a night to showcase their distinctive cooking styles at The French.
With favoured specialist suppliers and a wealth of British ingredients sourced from Simon Rogan's farm in Cumbria, Rogan and his team of elite chefs have created 5 remarkable menus to exhibit their diverse talents.
The 2016 chef schedule is as follows:
Tuesday 7th June – Tom Barnes, L'Enclume (Cartmel, Cumbria)
Wednesday 8th June – Simon Rogan
Thursday 9th June – Adam Reid, The French (Manchester)
Friday 10th June – Dan Cox, Fera at Claridge's (Mayfair, London)
Saturday 11th June – Marcus Noak (Umbel Restaurant Group)
The menus are all priced at £100 per person, with an accompanying wine flight available on request at £60 per person.
Once again, £20 per person will be donated to supporting Hospitality Action, the industry's benevolent charity offering vital assistance to all who work, or have worked, within hospitality in the UK and who find themselves in crisis. After having raised nearly £4,000 in 2015, we hope to surpass this figure in 2016.
Bookings can be made on 0161-932-4198, or via the website, please see the 'Reservations' link above.