The French - 13.03.2018

Inspiration Lunch at The Fat Duck…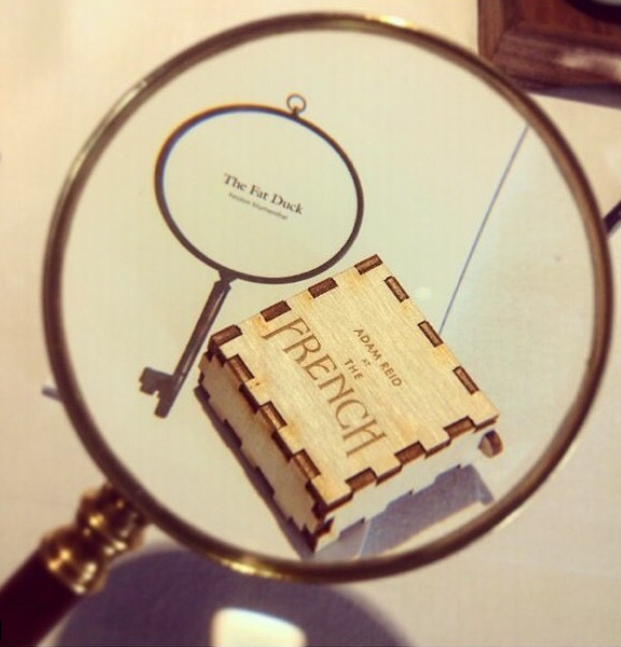 by Daniel Bennett
It may have been my 4th (maybe 5th week) of working at Adam Reid at The French, the usual kitchen banter was taking place in the back whilst myself and the rest of the front of house staff were preparing the restaurant for another busy Friday evening.
The conversation came to 'The best places we had eaten'. Listing my favourite restaurants throughout Europe, I explained how I had longed to visit Heston Blumenthal's The Fat Duck in Bray. Over-hearing the flow of the conversation, Chef Patron, Adam Reid informed me how Jonny Lake (Head Chef at The Fat Duck) was organising an "Inspiration Lunch" at the restaurant, and inviting 40 members of staff from the hospitality industry to attend a private dining experience in four weeks time in Bray.
As soon as my shift had finished, I rushed back to sunny Warrington and completed the application form, the normal questions occurred; Why would you like to come? What is your position at the restaurant? Your previous experience? etc. etc. ect.
The final question; "A nostalgic memory from when you were a child, the smell, the sound and sights you witnessed from your childhood, maybe a holiday?"
I always recalled a strong memory of visiting my Aunt's farm in St.Agnes, Cornwall, where she would provide us with sausages and gammon for the week, as a family we would then venture to the towns chippy, fry the meat on the 'throw away BBQ' and relax in the garden! Splendid!
Two weeks had passed and as I was sat in a Monday morning 9am lecture at University, a sudden 'ping' from my laptop awoke me, from my induced, bored comma state I was in, to find an email from 'Dora Bella', my personal story teller from The Fat Duck! A second email came through shortly after, confirming my reservation for the upcoming Sunday.
After my day at University, I drove home, told half the population of Warrington along with gloating/informing the chefs at The French.
Arriving back at work on the Thursday, Kamila (Restaurant Manager) had informed me she knew several days beforehand, after receiving a phone call, but didn't want to ruin the surprise.
Arriving in Bray on Sunday, after travelling 4 hours by car, three trains and a bus, I came across an old white cottage in the middle of the town square, with a spoon, fork and knife dangling from the wall.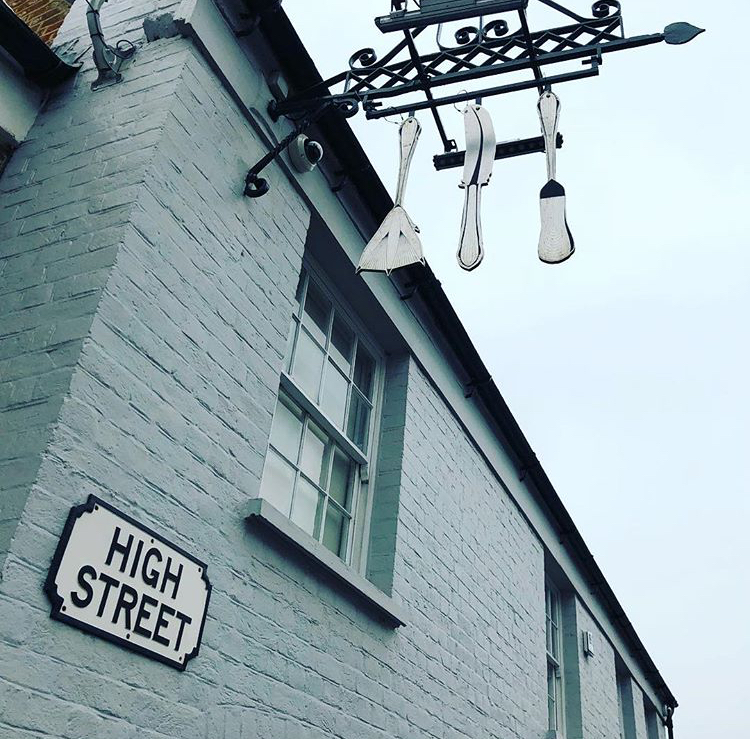 I was greeted by several story tellers at The Hinds Head, the meeting point for the guests thirty minutes prior to our seating time, for a complimentary glass of champagne, and given the opportunity to interact and get to know other guests further. Le Manoir, Restaurant Story, Midsummer House, just a handful of establishments that were featured at the table I was sat at
Dora arrived at our table to take us across to the restaurant and to start 'Our Journey' going on holiday as she described.
The First Course;
A CHANGE OF AIR – Aerated Beetroot and Horseradish, I cannot describe how ridiculously light this dish was. The closest metaphor I can think of, is the feather of a humming bird, however that would still weigh a tonne in comparison.
Several Courses came and went including; WHY DO I HAVE TO CHOOSE BETWEEN? – One of the restaurants iconic courses with the involvement of 'Variety of Cooked Breakfast' and "Hot and Iced Tea – IN ONE CUP?! *Chef did tell me how he does this, however I shall not spoil the the surprise*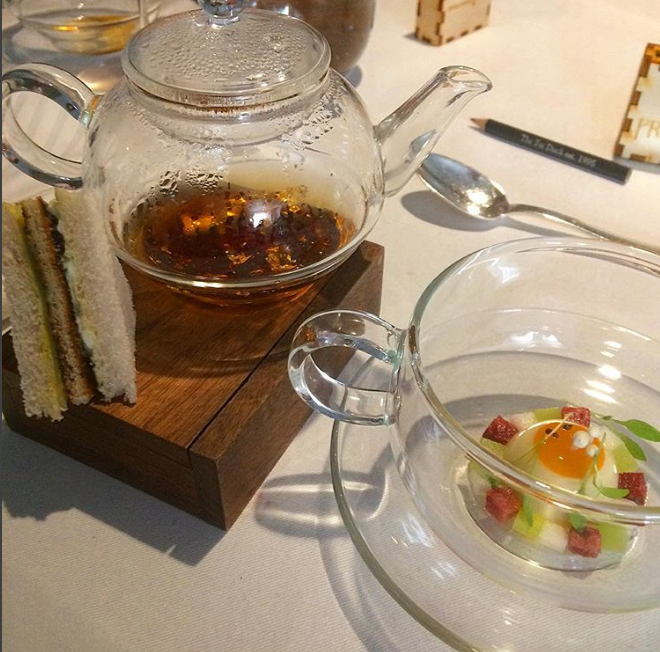 SOUND OF THE SEA followed, an array of childhood ice creams with slightly different tastes;
WALDORF SALAD 'ROCKET'
SALMON "TWISTER"
CHICKEN LIVER PARFAIT "FEAST"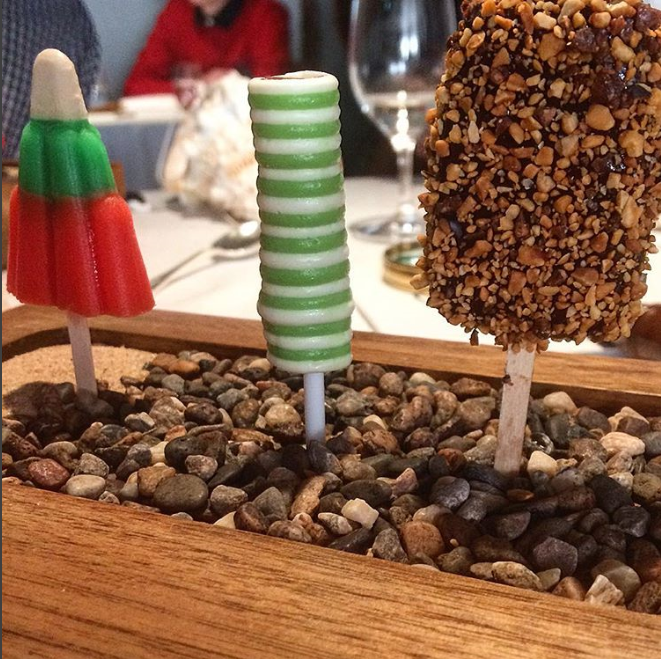 The next course involved the table going 'Rock pooling" – CORNISH CRAB, SMOKED CAVIAR, GOLDEN TROUT ROE, SEA VEGETABLES AND WHITE CHOCOLATE, Yes White Chocolate and Crab, obviously this should never work BUT this was my favourite dish!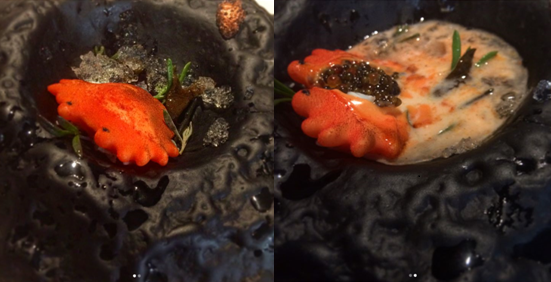 Next came a 3 course A La Carte Menu in the middle of a 16 course tasting menu, as you do.
SNAIL PORRIDGE another of the restaurants signature dishes, had to be tried, along with SEA BAS, CUCUMBER, GREEN PEPPER AND CAVIAR (a lot of Caviar).
Next, rather than the intended finish of BOTRYTIS CINEREA; the rotting mould that turns grapes sweeter, transformed into a dessert, the meal took a slightly different turn. Using my nostalgic moments I had sent the restaurant with my application, they had created a dish with these memories just for myself. Sat in a three star Michelin restaurant, formally the best restaurant in the world, in my best bib and tucker, a plate of Gammon, Sausage and Chips appeared in front of me and of course, Chef's version of 'Brown Sauce". It was an instant throwback to a slightly smaller me, aged 6, in the salty Cornish air, dipping chips in brown sauce! – New favourite course!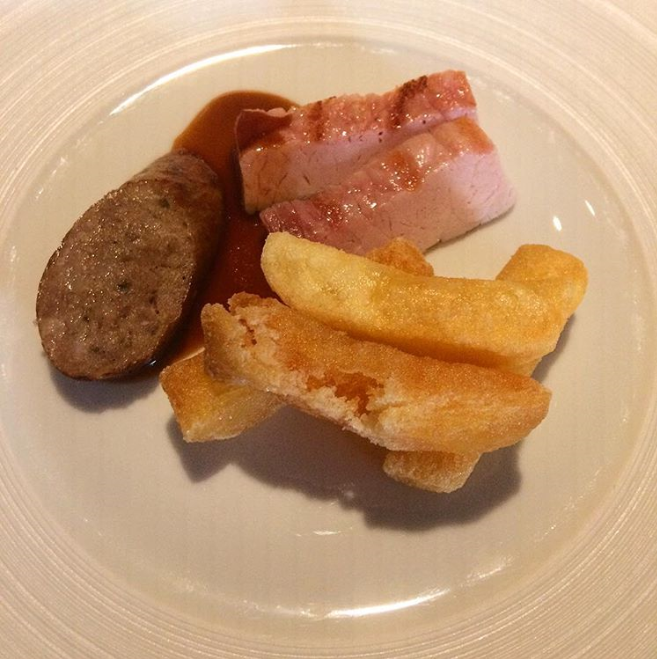 Following this impromptu 3 course meal and nostalgic throwback, were "WHISK(E)Y GUMS"- Whisk(e)ys from Ireland, Scotland and America turned into the adult equivalent of Gummy Bears.
COUNTING SHEEP – A floating pillow with MALT MERINGUES carefully placed over the top with ORANGE BLOSSOM, TONKA, MILK, CRYSTALISED WHITE CHOCOLATE, PISTACHIO.
Finally LIKE A KID IN A SWEETSHOP
A small coin we were told to look after right at the start of the meal could be exchanged for a selection of OXCHOC, EDIBLE WRAPPED CARAMEL, QUEEN OF HEARTS JAM TART AND MANDARIN SCENTED AREATED CHOCLATE.
After finishing our 'Journey' an invitation to meet Jonny Lake and his culinary experts in the kitchen, possibly the slickest work force I have ever seen, gliding effortlessly behind the pass.
And after having a slight fan boy moment whilst talking to Chef, and practically begging him to sign my menu, we departed the kitchen, returned to our seats to find all our nostalgic moments, along with a signed menu, in a small takeaway bag.
My meal at The Fat Duck was complete, the oak door shut behind me, leaving me in a small windy Windsor village lusting for an ice cream made out of fish.
The Fat Duck, the only 3 Michelin Star restaurant in the world, where you can have Gammon, Chips and Sausage as a main course!